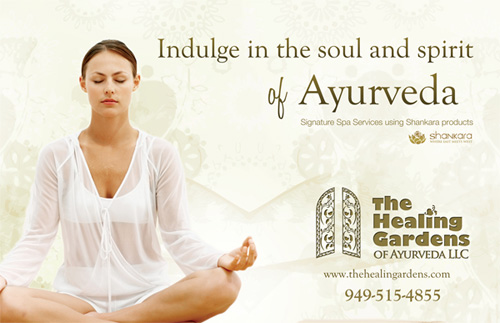 Nurturing Mind/Body/Spirit Beauty in You…Consciously
Costa Mesa, California, USA – January 29, 2013
The Healing Gardens, an authentic Ayurvedic clinic and wellness center located in Costa Mesa California, is launching a series of Ayurvedic Spa Treatments using the beautiful, organic and pure products of Shankara. Shankara products combine nature and technology where they blend the best from both the ancient eastern science of Ayurveda and anti-aging breakthroughs achieved by western science. Proceeds of Shankara products go towards global humanitarian aid projects.
The new spa treatments are designed to help clients emerge with renewed energy, a relaxed body, and enjoy a transformative mind/body/spirit experience. The Healing Gardens believes that relaxation & rejuvenation is a necessity, not a luxury and the new spa treatments allow you to indulge in the soul, spirit and science of Ayurveda.
The spa therapies include:
Sansara – Ayurvedic Abhyanga Full Body Massage
Feel the stress and tension melt away….
Sansara (Sanskrit for continuous flow) signifies the continuous flow of consciousness and life. Like the movement of the Abhyanga, a continuous flow of medicated oil, massaged in a rhythmic motion, works to affect the layers of the physical and subtle bodies, bringing balance and harmony, revitalizing and refreshing the mind, the body and the Spirit.
Sundara – Signature Ayurvedic Facial
Restore and beautify your skin….
Sundara (Sanskrit for beauty), is the heart of the Ayurvedic facials. Each individual possesses an innate beauty born of the synergy between energy, light, and Spirit. Through the alchemy of Western Science and ancient wisdom of Ayurveda, the Shankara products blend concentrated plant extracts, sea algae, and mono-atomic elements in a synergetic formulation to fight the damage of natural and environmental aging. The result is a beautiful treatment that brings refreshment and nourishment and harmony to the skin, supporting and encouraging our innate beauty and strength of Spirit.
Shirodara – Ayurvedic Art of Soul Therapy
Drift into a state of peace and calm….
Shirodhara is an inviting treatment with deep significance in Ayurveda. The crown Chakra is symbolized by a lotus with 1000 petals and is considered the gateway of enlightenment and full awareness. This encompassing treatment focuses on the release of tension around the head and neck, stimulation of the scalp, nourishing of the hair and balancing energy points to soothe the mind and awaken the senses. The flowing oil of the Shirodhara quiets the mind caressing the scalp in a blanket of warmth.
Pricing:
Each Ayurvedic Spa Treatment is priced at $110.
The Healing Gardens will host an Open House on Thursday, January 31st from 5-8 PM where you can experience a demonstration of the new spa treatments and Shankara products for yourself. Join us to celebrate health, happiness, friends & family.
For more information, please call Sujata Shah at 949-515-4855 or email: sujata@thehealingardens.com.
About The Healing Gardens of Ayurveda Wellness Center & Clinic
The Healing Gardens of Ayurveda is an Ayurvedic & wellness center, established in 2005 with the mission to bring authentic Ayurveda & natural healing therapies to America. Headed by the highly qualified & experienced team of Sujata Shah and Ayurvedic Physician Dr. Ram Tamang, The Healing Gardens has created life changing experiences for people from various walks of life, both healthy & those undergoing serious ailments. For more information please visit: https://thehealingardens.com
Press Contact:
Kimberley Hebdon Fuller
Delamere Marketing
Direct: +1 562 415 8562
Mobile: +1 310 469 8190
E-Mail: kim@delameremarketing.com, fuller.kim@gmail.com , kim@thehealingardens.com
About Shankara
Shankara delivers an unparalleled experience of nutrition, oxygenation, hydration, and protection with our ground-breaking, natural collection of retail and professional products for face and body. The Shankara Skincare System produces true skin transformation and enhances your authentic beauty. The Shankara approach is original and holistic, pairing western anti-aging breakthroughs with the eastern science of Ayurveda, the ancient "Science of Life." Shankara products are created using cold processed, synergistic blends of anti-aging, antioxidant-rich active ingredients, combined with highly nutritive, therapeutic, and aromatherapeutic essential oils. Using a rapid delivery system, the ingredients in our products quickly penetrate surface layers to catalyze real change, delivering almost immediate topical improvement in your skin while products work to balance conditions from within. For more information please visit: http://www.shankara.com
Press Contact:
Liz Verbruggen
VP Sales & Marketing
Direct: +1 972 979 4058
E-Mail: Liz@Shankara.com